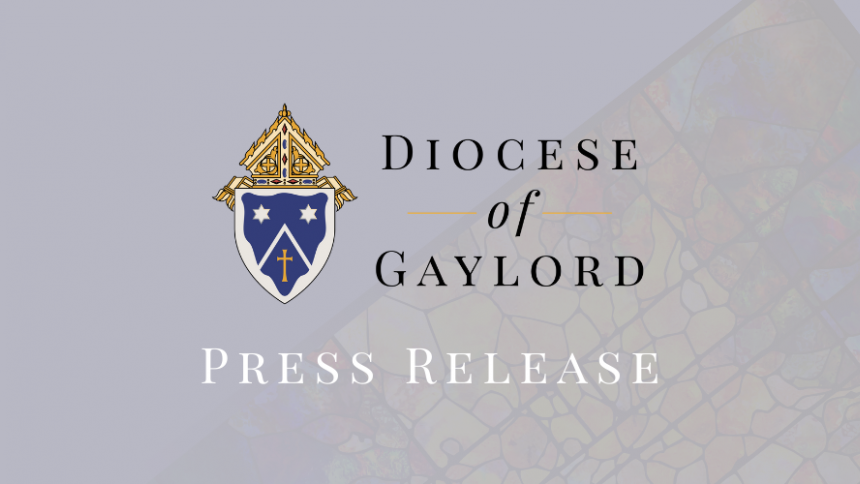 The Diocese of Gaylord became aware some days ago of an apparent violation of diocesan Protocols for Ministry to Minors involving electronic messages sent to a small number of students. The diocese immediately referred the concerns to the Michigan Department of Attorney General and Michigan State Police, who are investigating the matter. Any investigation of the matter by Church authorities will be undertaken after the civil investigation concludes.
This investigation involves Rev. Bryan Medlin, pastor of the National Shrine of the Cross in the Woods in Indian River. Fr. Medlin has stepped aside from all parish and diocesan responsibilities (i.e., pastor of Cross in the Woods Parish and assistant director of vocations of the Diocese of Gaylord) while this civil investigation is underway. He is not engaging in any ministerial activities at this time, and parish responsibilities are being overseen by Rev. James Gardiner.
Mackenzie Ritchie, Director of Communications for the Diocese of Gaylord, said: "The safety and security of our students — and all those within our schools and parishes — could not be more important, and we are thankful for the continued work of civil authorities in safeguarding our young people. The diocese continues to fully cooperate with law enforcement and civil authorities and follow their direction. In order to maintain the integrity of the civil investigation that is underway, the diocese will not make any further comments at this time but continues to direct any questions to Michigan State Police or the Michigan Department of Attorney General."
The Diocese of Gaylord encourages that any allegation of abuse, harassment, or inappropriate conduct by someone in the Church be reported to the Michigan Department of Attorney General at 844-324-3374 or to local law enforcement. Reports are also encouraged to be made to Church authorities by contacting the diocesan Victim Assistance Coordinator, Larry LaCross at 989-705-9010.
# # #
The Diocese of Gaylord was established by His Holiness Pope St. Paul VI on July 20, 1971. The territory encompasses 11,171 square miles and includes the 21 most northern counties of Michigan's Lower Peninsula. The region is home to nearly 50,000 Catholics, served by 75 parishes, 16 Catholic schools and many closely-related institutions. For more information, visit www.dioceseofgaylord.org.
Media Contact: Mrs. Mackenzie Ritchie, Director of Communications | mritchie@dioceseofgaylord.org | 989.705.3506