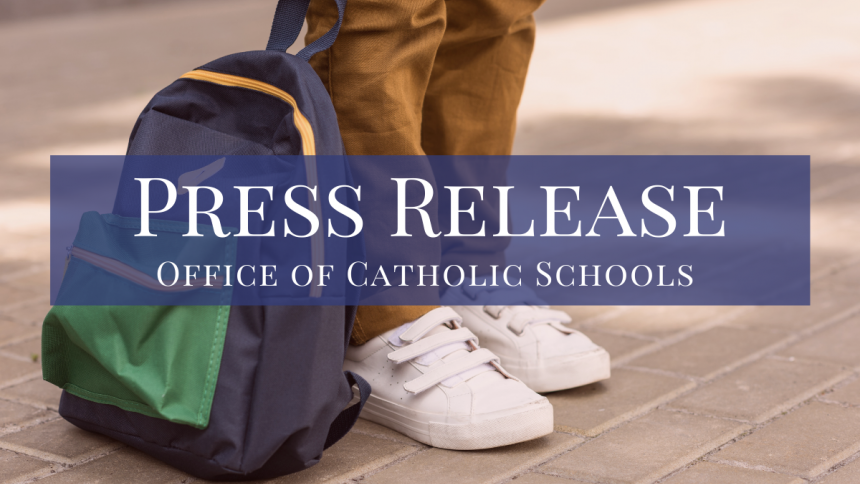 The Most Reverend Jeffrey J. Walsh, bishop of the Diocese of Gaylord, has announced the appointment of Dr. Erick Chittle, Ph.D., as the Interim Superintendent of Catholic Schools, serving in the same capacity as the 2021-2022 academic year.
Dr. Chittle has served in various leadership roles within the diocese for more than 20 years, including his most recent service as the diocesan Interim Superintendent of Catholic Schools, a position held since May 2021. During this time, he also served as Interim Superintendent of the Grand Traverse Area Catholic Schools.
Dr. Chittle holds a Ph.D. in Catholic Educational Leadership and Policy Studies from Catholic University of America; a Masters in Curriculum and Instruction and Secondary certification in English and General Science from Ferris State University; and a Bachelor of Arts in History from Hope College. Dr. Chittle has been joyfully married to Kimberly for 24 years and is father of nine children. He and his family are longtime parishioners at Immaculate Conception parish in Traverse City.
In his role as diocesan Interim Superintendent, Dr. Chittle will provide strategic oversight to the Office of Catholic Schools and lead the Catholic Schools leadership team (detailed below). The Diocese of Gaylord currently has approximately 3,000 students enrolled in its 16 Catholic schools.
---
Office of Catholic Schools Leadership Team:
Mrs. Penny Clemens is appointed as diocesan Associate Superintendent, in addition to her role as the Principal of St. Joseph Catholic School in West Branch, a position she has held since 2018. She holds a Master of Arts in Public Administration from the University of Michigan and a Bachelor of Science in Elementary Education from the University of Michigan, Flint. As the Associate Superintendent for the diocese, Mrs. Clemens will serve as the liaison for the eastern side of the diocese and coordinate the Michigan Association of Non-Public Schools (MANS) Accreditation process.
Mr. Matthew Bauman will continue to serve as the Director of Curriculum and Instruction and work with the Leadership Team on diocesan professional development. Mr. Bauman begins his 21st year serving the diocese, in which time he has worked as a coach, teacher, principal, dean of students and currently as Director of Academics. He is a graduate of Alma College with a Master's degree from Central Michigan University. Mr. Bauman, his wife Kristin of 14 years, and five boys are longtime parishioners of Saint Francis Parish in Traverse City.
Mr. Adam Dobrowolski is appointed as the Coordinator of the New Principal Cohort. In this role, he will work with a cohort of new principals, leading them through studies that aid in the understanding of what makes a school Catholic in the eyes of the Church and increase their understanding of pedagogy and decision-making. Mr. Dobrowolski holds a Master's in Educational Leadership from Grand Valley State University and a Bachelor of Science in Geography and History from Eastern Michigan University. He began his career in education as a teacher at St. Francis Xavier School in Petoskey in 2004, served as assistant principal there for eight years, and now has served as principal of the school since 2018. Since moving to Petoskey in 2004, he and his family have been parishioners of St. Francis Xavier Parish in Petoskey.
We continue to pray for Mr. Michael Buell, who will remain active in aspects of school administration.