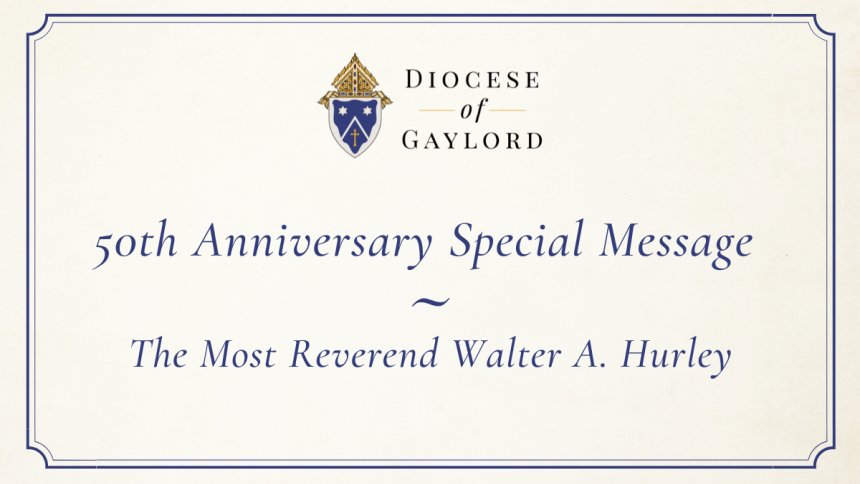 In a special video message, Bishop Walter A. Hurley, Apostolic Administrator of the Diocese of Gaylord, welcomes guests to join in celebrating the 50th anniversary of the founding of the diocese on July 20, 2021:  
Christian faithful will represent the 75 diocesan parishes at a historical Anniversary Mass to be celebrated on July 20th at Saint Mary Cathedral, Gaylord. Archbishop Allen Vigneron of the Archdiocese of Detroit will preside over the Mass. Previous bishops of the Diocese of Gaylord — Archbishop Bernard Hebda of the Archdiocese of Saint Paul and Minneapolis and Bishop Steven Raica of the Diocese of Birmingham in Alabama — will concelebrate the Mass. Archbishop Hebda will give the homily. Other bishops from Michigan and elsewhere in U.S. will also be in attendance, joining the clergy from throughout the Diocese of Gaylord.
Bishop Walter Hurley welcomes all, "It is my prayer that you will be able to join in this historic and joyful celebration. For fifty years, the faithful people throughout the diocese have worked to build the local Church here in northern Michigan — there is much to be thankful for! Together, let's celebrate the past as we look to the future with confident hope."
The 50th Anniversary Mass will take place at 2:00 p.m. on Tuesday, July 20th at Saint Mary Cathedral in Gaylord. A catered reception will follow in the Diocese of Gaylord's Pastoral Center.
For more information, visit the 50th Anniversary webpage.