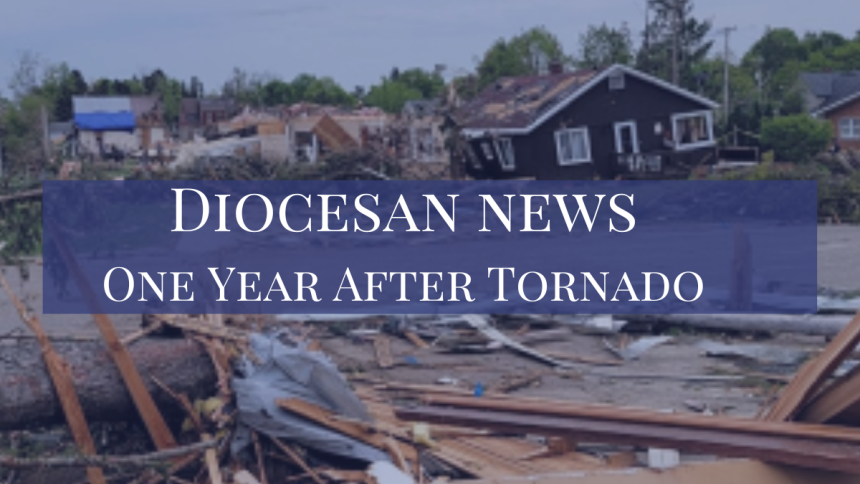 May 20, 2022 marked the one-year anniversary of the deadly tornado that ripped through Gaylord, just missing, by the grace of God, the diocese offices, St. Mary Cathedral and school.
In just three minutes, an EF3 twister killed two people, injured 44 others and destroyed numerous homes, business and vehicles all throughout Gaylord.
Today, much of the destruction has been cleaned up, but recovery efforts continue. Homes and businesses that were flattened are still being reconstructed.
"I extend my sincere gratitude to all the parishioners in the diocese who contributed more than $203,000 to the Tornado Response Fund which we presented to the Otsego Community Foundation," Bishop Jeffrey Walsh shared. "Know that your financial contributions and spiritual support has greatly assisted in the ongoing recovery efforts to lift Gaylord back up. I am forever grateful for your generosity and prayers."
With the Catholic community's contribution, the Otsego Community Foundation raised $1.6 million to date. These funds have been used for immediate relief and short-term recovery, including:
Providing 1,658 nights of emergency shelter,
Rebuilding 27 homes,
Repairing four damaged vehicles,
Replacing five vehicles that were destroyed.
Otsego Community Foundation's leadership wants you to know "you have been an important part of this formidable effort, and you are appreciated."
OCF will continue to keep the community informed on the long-term rebuilding efforts.
---
Before and after of the Gaylord commercial plaza