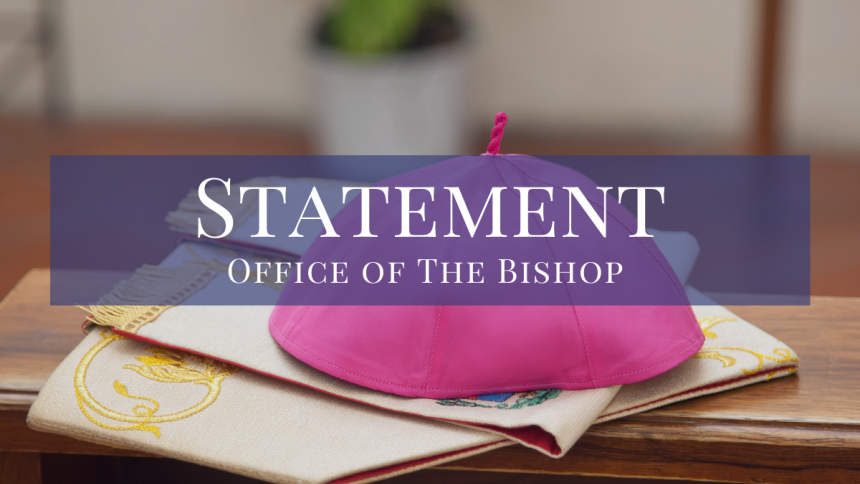 With the release of the Department of the Interior's Federal Indian Boarding School Initiative Investigative Report on May 11, 2022, and the subsequent national news story referencing the tragic account of a former student at Holy Childhood of Jesus School in Harbor Springs, the Diocese of Gaylord once again takes this opportunity to express deep sorrow and apology for any wrongdoing that caused such lasting harm and suffering to former students such as Mr. Fred Kiogima.
The Most Reverend Jeffrey J. Walsh, bishop of the Diocese of Gaylord, released the following statement:
"We stand ready as a faith community to extend our support to Mr. Kiogima and any other person grieved by childhood experiences at Holy Childhood of Jesus School. The Diocese of Gaylord will review the Department of Interior's full report in order to discern the best path of healing and reconciliation moving forward and we will continue to cooperate with authorities, as appropriate."
The Diocese of Gaylord encourages that any allegation of abuse by a priest, bishop, or someone in the Church be reported, regardless of when it occurred. Individuals are urged to file a report by contacting law enforcement; the Michigan Department of Attorney General at 844-324-3374; or the Michigan Department of Health and Human Services at 855-444-3911. Reports are also encouraged to be made to Church authorities by contacting the Diocese of Gaylord's Victim Assistance Coordinator, Larry LaCross, at 989-705-9010. Additional resources can be found on the diocesan website at:  https://dioceseofgaylord.org/how-make-report
# # #
The Diocese of Gaylord was established by His Holiness Pope St. Paul VI on July 20, 1971. The territory encompasses 11,171 square miles and includes the 21 most northern counties of Michigan's Lower Peninsula. The region is home to nearly 50,000 Catholics, served by 75 parishes, 17 Catholic schools and many closely-related institutions. For more information, visit www.dioceseofgaylord.org.
Media Contact: Mrs. Mackenzie Ritchie, Director of Communications | mritchie@dioceseofgaylord.org | 989.705.3506
Previous statements on this topic can be found on the diocesan website here: